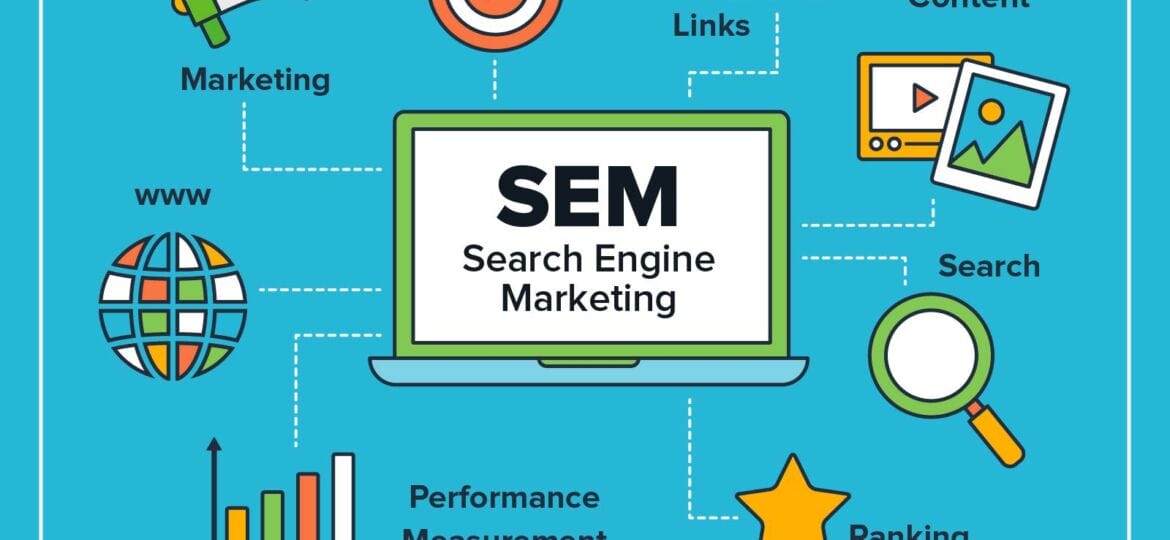 Search Engine Marketing, or SEM, is the promotion of a web site using various strategies including Internet Branding, Link Building, Pay Per Click Advertising, or a combination of these and other search engine related activities. The goal of SEM is to ensure that your brand is displayed prominently in the results when consumers search for particular goods or services in your industry. Search Engine Marketing requires patience and dedication to achieve its goals.
Search Engine Marketing and the Algorithm
Researchers estimate that the number of unique URL's on the web tops one trillion and is growing every day. It's up to search engine spiders to sort through all of the available information and determine the relevance of its content – this is no easy task.
As such, search engine algorithms have become increasingly sophisticated, using tremendously complex formulas to determine the topic of a web site and to assess its authority on that topic. Algorithms are dynamic, evolving daily to refine their queries and to avoid international manipulation of search results by spammers.
Although Google, MSN, and Yahoo remain tight-lipped about the proprietary formulas of their respective search engine algorithms, an entire industry has emerged around them. If launching a business web site is the first step in an online marketing campaign, and SEO is the second, the promotion of the website to the search engines is an equally important final step.
The job of a search engine marketer is not an easy one. Building a company's brand and link popularity takes hard work and patience; it won't happen on its own and it definitely won't happen overnight.
A good Search Engine Marketer will determine the core criteria that the search engine algorithms use to rank a web site and will employ various strategies to develop a successful campaign.
SEARCH ENGINE MARKETING: LINK BUILDING FOR POPULARITY
Google's algorithm and the citation process
Google's search engine algorithm has evolved substantially since its conception in 1996. The search engine was modeled on a simple premise that is still clearly reflected in the way the algorithm works today.
The idea was that in the academic world, researchers add to the findings of those before them, citing the work of their predecessors as they build on it. Every published body of work has a citation of references that lends to its authority, based on the relevance and credibility of the people cited.
The citation process is how a researcher establishes authority, or relevance, and Google's algorithm does the same thing. Google determines that web pages with the most links to them from credible web sites have the most relevance to the terms associated with a particular search.
Link-Building Strategies
A successful link building campaign begins with an analysis of your competition. Determining how your strongest competitors are ranking can be very effective in structuring your link campaign. Potential link partners should be carefully evaluated to ensure that they don't participate in unsavory link schemes like link farms and doorway pages.
Participation in communities such as blogs and online forums is a quick way to generate links to your web site, although it should be noted that all links are not created equal. A link from an educational institute or a governmental website will be valued much more highly by search engine algorithms than a link from a user post on an online forum.
Search engine marketing will employ many strategies to create quality backlinks to your website including: article submissions, press releases, contests and promotions, news feeds, online publications, wiki's, and much more.
A successful internet marketing campaign only begins with a well designed search engine optimized website. Having quality links from relevant web sites is critical to generating internet traffic. A link-popular website will outperform even the most search engine friendly web site if it is missing quality links pointing in its direction.
SEARCH ENGINE MARKETING: CREATING AN INTERNET BRAND USING SOCIAL MEDIA
Social Media Optimizations (SMO) and Social Media Marketing (SMM) are emerging terms that define marketing through social media and social networking web sites. Although the two marketing strategies may seem similar or even the same – they are not.
Social Media Optimization (SMO)
SMO refers to the process of optimizing a web site in order to facilitate the means by which the content can be distributed throughout social mediums and online communities by visitors to the site. Examples of social media optimization include "Digg This!" and "Bookmark on Delicious" icons, "Subscribe to RSS feed" buttons and "Share on FaceBook" links.
Social Media Marketing (SMM)
SMM refers to the active creation of multimedia content and the distribution of the content off site through a variety of social media websites. Examples of social media marketing include the publishing of a blog on "WordPress," an album of photos shared via a "Flickr" account, and the creation of a viral video to be posted on "YouTube."
Internet Branding Takes Time
Any company with experience in Internet Branding through Social Media platforms will tell you that results do not happen overnight. A well orchestrated brand management campaign by means of social network marketing takes time.
As you establish an online community of friends, family, and business colleagues with common interests, your business brand identity – embodied by your logo, your website and its content, our press releases, your blog, your newsletter, and more – will be promoted throughout the social network and will clearly reflect your brand image.
SEARCH ENGINE MARKETING: PAY PER CLICK (
PPC

) ADVERTISING

Pay Per Click Explained

The premise of Pay Per Click advertising is very simple. Although the goal of search engine optimization is to rank "naturally" for a particular keyword, PPC marketing allows advertisers to bid against competitors for a particular keyword or key phrases.

Advertisers can therefore pay to have their ad placed highest in the list of "sponsored links" or "paid listings" or "featured listings." These "sponsored results" typically appear at the top or on the right side of the search engine results page (SERP). Search Engine Pay Per Click advertising operates by allowing you to add bids on keywords that are related to your business.

There are two keyword strategies: search and content. "Search" is more of an order taking strategy. Search ads, such as Ad Words, are displayed on the top and the right side (the small 4 line ads in blue) when someone types in a query in the Google search box. Ad Words is much more effective because users that are looking to buy a product or service are much more likely to search on Google, rather than click on a link placed on another website, especially in the case of B2C. Search is a very direct strategy that requires your keywords to stay extremely relevant, and your ad groups clean and tight. Just remember, when you are advertising on the search network, expect to pay more for keywords compared to the content network. This is expected, you're paying for more targeted traffic.

Advertising on the content network is more of a push strategy. You are basically buying space on websites, like Ad Sense. The keywords you choose will determine which websites your ads will be displayed on. You can place ads on any keywords that you think the market may be interested in your product or service.

Paid Listings Increase Visibility

Research has shown that having both high rankings in organic search engine results and having a high sponsored Google rank increases the credibility of your business brand and, in turn, increases traffic to your business web site.

Consider the search engine results page as you would a prime piece of real estate with very high visibility. The goal of your online marketing campaign should be to get your business name, or your corporate brand name, on to that piece of real estate as many times as possible.

Google Adwords

Google Adwords is the largest and most used PPC advertising platform on the internet today. A Google Adwords account can be used to purchase pay per click advertisements on Google.com, the "Google Search Network," which is made up of several Google partner sites including AOL.com, Ask.com, Netscape, and Excite and the content network.

Advertisers bid to have their ads listed. Some terms are in high demand and can require a bid of several dollars a click to be listed in the first few sponsored results. The higher your bid, the higher your ad is placed in sponsored results. When consumers click on the ads, the advertiser pays the bid amount. Hence, the term Cost Per Click (CPC).

While Google is the strongest advertising entity, Yahoo also offers PPC in both their search network and content network. The cost per word in a Yahoo PPC campaign is significantly less but, of course, you are only getting about 35% of the market. A combination PPC campaign involving both Yahoo and Google is sometimes the best approach while other campaigns will be better served using only one of these search engine marketing services.

PPC Campaign Management

Managing a PPC account is significantly time and labor intensive, and must be maintained on a daily basis in order to grow and succeed. Several different PPC campaign strategies must be employed in order to find what works best based on your business needs.

When properly implemented, all the available options of PPC advertising in combination with your organic traffic can help you capture all the available clicks for the keywords relevant to your business.
SEARCH ENGINE MARKETING: USING WEB ANALYTICS TO MONITOR TRAFFIC
A good web site is not easy to come by. Countless hours of planning to determine how your site will be both user friendly and search engine friendly is needed. Months – or even years – of targeted marketing campaigns, establishing your brand image through social networking and spending hard earned money on pay per click advertisement may be necessary in order to drive your target number of potential customers to your business web site.
Has your time, effort, and money spent helped you reach the goals you set for your business?
Without the measurement, collection, and analysis of data from your site – you will never know. A robust analytics program is often overlooked, but vital to the success of any website optimization and internet marketing campaign.
A web site owner needs to know exactly where the web traffic is coming from, how long they stay, where they go, and why they left. Without web analytics, a business web site operator has no measurable results to assist in making informed, fact based decisions. And most importantly, proper web analytics help you determine whether your business is getting the return on investment (ROI) (for which you planned) in your internet marketing budget.