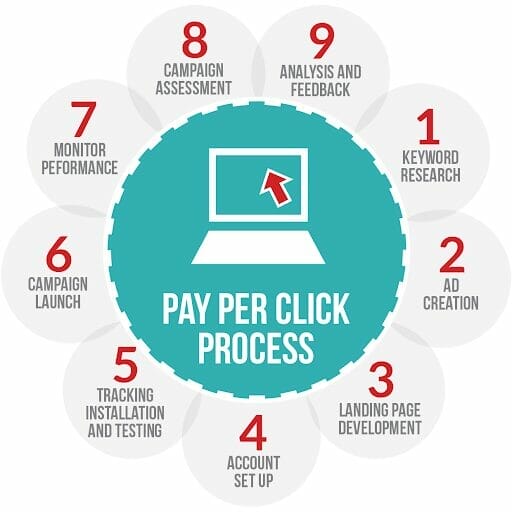 What Is Pay per Click
Search Engine Marketing

?

Pay Per Click (PPC) Search Engine Internet Marketing is a form of online marketing in which an agreed upon amount is paid by the advertiser for every click on the advertiser's link. PPC offers fast results and a good ROI. It will provide an immediate boost in qualified visitors.
How Does PPC Search Engine Internet Marketing Work?
Pay per click advertising is the placement of a small ad on the search results page for a specific keyword or keywords. In return for the placement of this ad on the serps (search engine results page) the advertiser makes a payment of a previously agreed upon amount every time a visitor actually clicks on the ad. Nothing is paid to appear on the results page. The advertiser only pays they amount they have agreed to pay (or bid for) whenever someone clicks on their ad and is taken to their site.
What Are The Top Pay-Per-Click Internet Search Engines?
Google– Google is the largest and most popular search engine on the internet. It is estimated that Google has captured 50% to 80% of all search traffic. Google AdWords offer tutorials to guide you, a comprehensive free web analytics package and a low $5 startup fee. The Google network includes AOL, Ask.com, Netscape, EarthLink, AT&T WorldNet, and CompuServe. Content partners include About.com, The New York Times, US News & World Report, and CBS Sportsline
Bing/Yahoo!– You choose keywords and your desired daily budget. You decide how much you are willing to pay for each click. Requires a low $5 startup fee.
Ask.com– Ask.com has only a 21% overlap with Yahoo! and 22% with Googlewhich means that 80% of the search base is unique to Ask.com. The top 5 competitors bidding on your keyword are shown to you. Set up terms and procedures very similar to Google and Yahoo!
MSN– The PPC option is referred to as P4P or pay-for-performance ads. Ads are placed on a bid-for-position basis and all ads go through an editorial evaluation process.
What Are The Basic Steps In A Pay-Per-Click Campaign ?
Decide the amount you are willing to spend on your PPC campaign and which search engine(s) you are interested in using. Larger search engines have excellent market coverage and offer a lot of assistance for their users but they are also more expensive.
Choose your keywords. Choosing the right keywords or keyword phrases is a very important step in your ppc campaign.
Compose your headline and ad content.
When you register your keywords with your chosen search engine you need to specify the maximum amount you are willing to bid. The price of keywords can range from 1 cent to a few dollars or more depending on the competition for your specific keywords. Advertisers who pay more will appear higher in the sponsored results listings.
Is There A PPC Solution For You ?
A Pay-per-Click campaign managed by a professional search engine marketing firm like Psycray combined with a search engine optimization campaign to improve your site's organic search ranking provides a balanced marketing strategy. The PPC campaign will start to drive traffic to your site while you are building organic search rankings over time. No one single advertising method will fit everyone's needs. Psycray can customize any SEM campaign to meet your particular needs and provide the PPC solution for you.
---
---
PayperclickUniverse.com "Pay per Click Advertising"
Searchengineguide.com "The Small Business Guide to SErch Marketing"