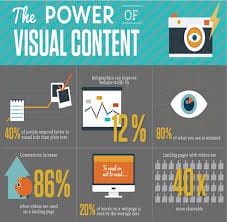 Get Your Company Going Visual
These days, it's not only that content is king — it's that visual content is that much more powerful. Studies show that people remember 80% of what they see and do, and only 20% of what they read. Between Facebook's news feed and the acquisition of Instagram, YouTube ranking as the #2 search engine after Google, and the rise of Pinterest, these sites and trends demonstrate the shift toward the need for ever-more powerful visual communication [infographic].
The overabundance of content on the web means that people want simpler information, and more memorable stories. What better way than to achieve this with images — since "a picture says 1000 words?" It's only fitting that there's been a rise of visual content!
For your business, make sure to take pictures to document successes and tell stories. On social media platforms, post a photo album, or create a new video that highlights your services (or features your satisfied customers). Use photo editing software to get the photos looking pro. Bring that refreshing real-life feel to your content that can only be told through visual storytelling.
Social Media: Tips for Visual Branding
Pay Attention To Your Look To Maximize Impact
Is your company using social media? As you grow a social media presence, it's critical to be conscious of what you post and follow best practices.
Social media can strengthen your brand's identity and relationships with existing and potential clients. Use it well and it will serve you; mess it up and you'll get a lot of raised eyebrows.
Here are some tips to make the most out of your online branding:
Be Consistent — Keep the look and feel as similar as possible between platforms. Identify your look and stick with it!
Know Best Practices — Don't "tweet" on facebook or post a dry or long-winded article on Pinterest. Know your platform and what types of content works best.
Keep Your Profile Picture Simple — Make it unmistakeable that this is your brand, and choose a long-lasting logo that's easy to recognize.
Keep It Fresh — Do you have a product launch or event coming up? Big milestone you should be talking about? Talk about it! And don't be afraid to use a cover photo as a billboard for something important coming up.
Be CreativeWith Your Space — Position your cover photos in a way that doesn't detract from the other photo. Think about how the main photos can work together to create a great space!