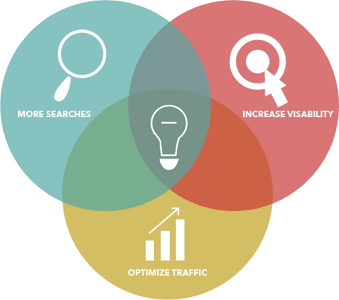 Contextual Advertising is an online advertising strategy that targets a search engine user visiting a content rich affiliate's site through keywords and keywords phrases. An advertiser's ad is then placed on relevant web pages by Pay Per Click (PPC) search engines. In contextual advertising, a contextual publisher scans a site for keywords and keyword phrases in the text and returns ads to that site. Then specific ads are returned based on the content a search engine user is viewing. Contextual advertising is a Pay Per Click advertising strategy and does not produce organic search results developed by a professional custom website design company like Dynamic Digital Advertising (DDA).
DIFFERENT TYPES OF CONTEXTUAL ADS
There are three different types of contextual ads: separate ads that appear in specific areas on a page, inline or in-text contextual ads, or pop-up ads. Some recognizable contextual advertisers are Google's Adsense and Overture's Content Match. Inline contextual advertisers who are willing to pay top dollar for Pay Per Click (PPC) advertising can have their ad placed at the top of the "sponsored listings" section of a search results page. In-text contextual advertisers, advertisements appear in the actual body text of a page and allow users to view the ad if they choose to click on the link.
BENEFITS
Small to medium business owners can save expenses by using a contextual advertising program because the targets are so specific. Certain sites, like news and publisher sites benefit from contextual advertising because the content on these sites is so specific that the returned ads will be targeted to the search engine user. Directories are also great places to display contextual ads. Because they are so targeted, the ads that appear in each category will be relevant.
PITFALLS
Inline contextual ads appear under the "sponsored links" area. Research shows that search engine users are four times more likely to click on a site displayed on the free side of the first page of search engine through organic search engine optimization, by a website design company like DDA, than they are to click on the sponsored sites. Because of the irritability of pop-up ads, many search engine users use the pop-up ad blocker meaning that they will never even view the ad. Also, contextual advertising has caused controversy by sometimes using third-party hyperlinking, the process of installing software on a search engine user's computer to return links to the user that are not paying the website to advertise on its site.